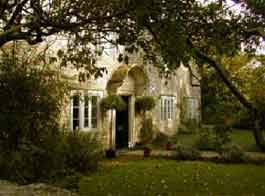 Claveys Farm is situated in the south west corner of Mells, a small picturesque village, south west of Frome in the South West of England. The six bedroomed farm house is early C18 with some C17 elements. It is stone built with stone tiled roofs. The front of the house has mullion windows and a beautiful curved hood above the front door. There is a back farmyard, now lawned over perfect for eating out on, surrounded by barns, one of which is home to chickens, ducks and the odd turkey. The painting studio is within the house. To the east of the house is a large flower garden and lawn, kitchen garden, an pig, sheep & goose paddock partly visible from the large bay window of the relaxing sitting room and library.
Notice Board

Television Appearances:

Tuesday 24th FebTBC 6.30pm BBC1 Points West

Local news report on current project, a mural for The Talbot Inn in the village of Mells near Frome in Somerset. The work depicts the buildings, landscapes, and characters of Mells and is executed on a distemper ground using pigment bound with casein and is after The Effects of Good and Bad Government by Lorenzetti. Date of broadcast to be confirmed but expected to be Tuesday 24th February.

Sunday 29th Feb 7pm BBC1 Michelangelo Pt 1

Sunday 7th March 7pm BBC1 Michelangelo Pt 2

BBC prime time Arts programme following in the success of Leonardo. Michelangelo and his work are examined in a documentary style, with comment from art historians and in dramatic interpretation using actors. A segment of the Sistine Chapel depicting the creation of Adam, is reproduced in fresco in a church in Leyton in East London by Fleur Kelly and Leo Stevenson. The work is carried out as it was by Michelangelo (including the erecting of wooden scaffolding) and Fleur and Leo demonstrate the techniques and process of painting in boun fresco. Fleur and Leo are also filmed on location at the Sistine Chapel.

Claveys Farm, Mells, Nr Frome, Somerset, BA11 3QP
Telephone: 01373 814651
Email: courses@fleurkelly.com
www.fleurkelly.com

Claveys Farm Painting Holidays and Specialist Art Courses 2004
If you are interested in any of our courses please use our Booking Form and post it back to us.